April 23rd DSSC Aero-Tow Day at Little Haldon
The weather was better than forecast and rain did not arrive until later in the day. Chris had a successful maiden flight

April 2023 Thermal Gliding Competition at Torbay and District RFC site
The weather was ideal and our club did rather well; 1st to 4th positions in the 4mtr for DSSC.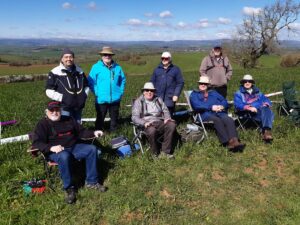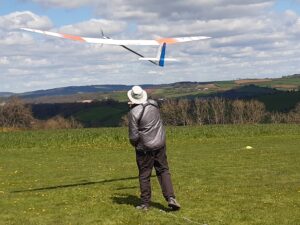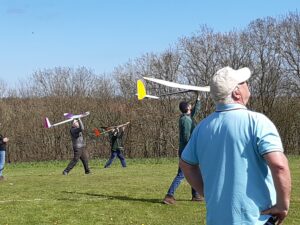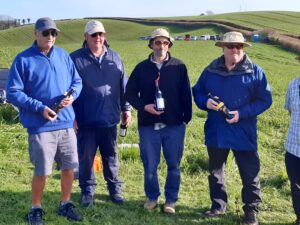 October 2022
This year has not been the the most active due to in part to unfavourable flying conditions with strong / gusting winds and or the wrong wind direction but also our strip has needed cutting back to the parameters set by Natural England as it had become overgrown making it unsuitable for aircraft with an undercarriage.  However, Martin has recently put in tremendous effort and using the club strimmer has cut the grass and tumps back to the permitted size and the strip is now looking much better. As a practice prior to our flying event on Sunday 6th November, Martin and John undertook a few glider tow flights using the North – South strip. As the following photos show the weather was a tad damp but I think I noticed a nostalgic expression from John remembering more hardy flying days. There was lift around but low cloud limited any height.
May 2022
After a period of limited flying opportunities at Little Haldon due to cool Easterly winds, we have had a few days with a calm warm westerly and South Westerly onto the slope. Although thermals have been difficult to find, we have had some fun, banter and sunshine! Martin in the role of chief test pilot has been a great help to me and Peter trimming our models so that they fly as they should. My Chris Williams designed e-Duster flies much better after several flights and introduction of some mixes to stop a tendency to nearly loop on a full power climb and Crow to supplement the brakes. Thanks Martin. Martin also helped Peter with his maiden flight that went very well.
Devon Glider Day September 19th 2021 at L.H
The forecast proved pretty accurate and the conditions quickly improved. The initial Westerly drifted NWesterly allowing the long North South strip to be used for take off and landing. Martin briefed pilots before flying began to ensure we all knew the safety protocol that has become so important lately.  First flights circa 11:00 discovered some thermal activity and Chris got a pleasing 18 mins with his 1/3 scale Pilatus from working the lift after calling landing!
Devon Glider Day July 18th 2021 at L.H
DGD went ahead in warm sunny conditions but flying was not brilliant. The clear blue sky made seeing models at height difficult, added to that the easterly breeze produced very little lift. Having said that, the small gathering enjoyed plenty of chat and of course the views were stunning.
Informal Aero-tow May 30th 2021 at L.H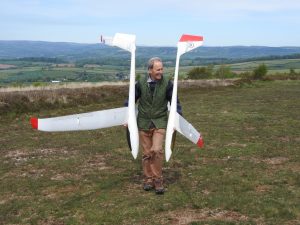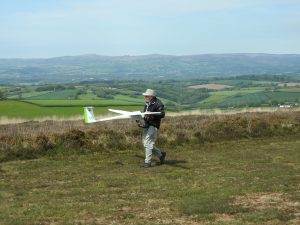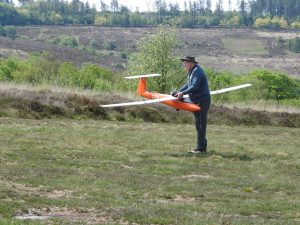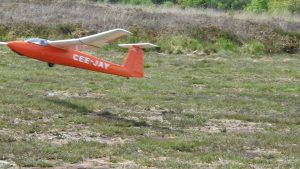 A Great Day out at OMFC October 2020
DSSC August 2020 Glider Aero-tow Event at Little Haldon
Back to our Roots, Slope Soaring at Black Hill
Members have posted some great photos from the day on our Facebook page. Here are some sent in by Stuart Chambers
Another K7 Build by John
Returning to the Skies in 2020
Chris's SZD Cobra 17
Chris's build made another appearance at our monthly meeting in March along with several other projects. Its looking awesome Chris.
Gordon's Christmas Raffle Prize
Gordon's Fun Cub XL made its debut at our March Club meeting and generated a lot of interest and some head scratching with trying to program the flaps function on the transmitter.
John's Glider Build
A 5mtr K7? are you looking forward to winter already John?
A build  progress update from John;
First pic…
Adding 0.4mm ply capping to the wing ribs. Ribs and caps are coated with PVA white wood glue, left for 20 to 30 mins then ironed on, instant grab! Used this method to apply the sheeting to the D box areas.
Second pic…
Ribs with caps glued on and very stiff even before the other side is capped. Much more work building the wings than I imagined!
"Looking good and worth the effort John – Robert"
Robert's Twin Otter Build
This build is definitely a marathon and not a sprint but that is what I enjoy. New photos show that the fuselage, fin and stab are making good progress. The bottom 1/16th sheeting has been sprayed, rolled into position and left to dry prior to gluing. Also making good use of my new Bosch laser gauge from Trago to check for bananas and twists. I just could not get alignment due to an inaccurate square.
More build log at https://www.rcgroups.com/forums/showthread.php?3454485-BIMBO-Twin-Otter-480-Build#post43146933
Devon Glider Day 15th September 2019
A Break in the August Weather
Little Haldon June 2019
Club Glider Days