Flat field thermal soaring
The DSSC club site is a flat field with a westerly escarpment at Little Haldon, near Teignmouth Golf Club. Our club has been granted model flying use and use of a locked car park by the landowner
Black Hill, Nr Haytor Rock Dartmoor.
Black Hill can be found on Ordnance Survey Map 191 north of Bovey Tracy and south west of Manaton. The site is best approached from Bovey Tracy. Follow the signs for Haytor Rock and when you can see the rock after the 2 – 3 mile climb turn sharp right at some cottages and follow the road for about a mile. Black Hill is over you left shoulder. If you make contact with the cattle grid reverse up the road a hundred yards or so. It is not a very big hill, 250 to 300 feet and can only cope with winds from North to East. There is a bit of a climb to get to the top from the road and when the wind is from the east it is one of those hills that leaves you undecided as to where is the best place to fly from as the gradient slackens towards the summit. It is also a bit of a frustrating hill as quite often there can be a decent breeze but the lift is poor yet on other occasions there can only be a nominal breeze and yet the lift is excellent.
Summary: Ideal on balmy summer evenings for practising landing approaches and learning to fly towards yourself with 2 metre floaters. Again another site worth visiting if you are in the area.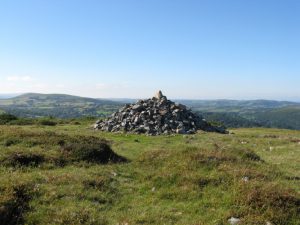 Hound Tor, Dartmoor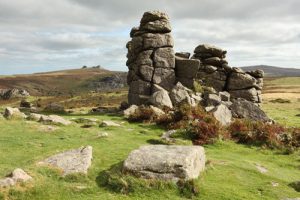 Chagford