A report from John and photo from Chris:
Guy has put on yet another hugely enjoyable glider thermal comp today, hosted by the Okehampton club at their Exbourne Site. Rob Oats was out early mowing the landing circle and ensuring the weather conditions were just perfect. A light to static warm westerly breeze and fluffy clouds was the order of the day enjoyed by I'm guessing around 13 pilots. I will not go into detail about results, save to say the lift in the early heats made soaring to 1000ft + the norm, but what makes this comp so popular I think is its simplicity, no complicated and nitty gritty rules that would exclude or frighten off prospective competitors. Virtually any model can be used, electric or bungee launch and no worries about controls, just launch, 4 at a time today, stay up for a max of 10mins and land within the radius of a laid out rope..simples.
Having said all that, skill is still required to stay aloft, 10mins does not seem long…wrong! Then a landing near your spot…again, not so easy.
All pilots exhibited a competitive but friendly edge  along with the accompanying applause and laughs from the rows of armchair pilots in deckchairs near the flightline.
Unfortunately there is only 1 round left this season on the 24th Sept, so thanks again to Guy and any of his helpers for taking the time and trouble to organise this Glider Comp.
When I hear more details about the next venue I will let you know.
Regards, John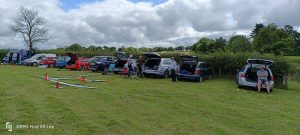 I must say that the results below for DSSC competitors looks impressive. (Robert)
Devon-SW Glider Championship Results