A flying report from John>
Hi Chaps, Chris and I had a great session at BH today. The last mile to Black Hill on the back road was a little icy in parts but plenty of dry road to slow down on. However it was cold, something like -2 out of the wind, but this was more than compensated for by the stunning landscape and full sun. We did go equipped however with good windproof and warm gear, I had a skiing onesie, my go to when the arctic chill kicks in, under which was a vest, thick shirt, jumper and body warmer. Then there is the woolly hat and full face scarf and gloves. Attending to the call of nature was never going to be easy! We took the less demanding and skiddy route up the hill to the NW to avoid an accident before we even got up to the top. Quite a few walkers and dogs about enjoying the surroundings but not an issue.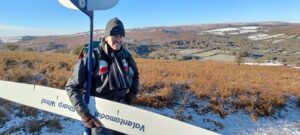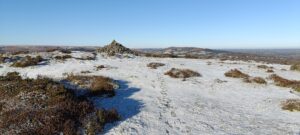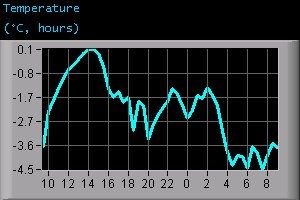 I took my Sharp Wind and Chris had a Super Starlight, both pure gliders. Flying was a joy although the lift would not have taken you to the moon, staying up and high was never an issue. The issue was the clear blue sky, you certainly needed to concentrate or lose sight. Landing at times was a little turbulent but nevertheless uneventful. Come lunchtime the wind was weakening but made no difference to the lift. I have to say had the wind been stronger the wind chill would have been unpleasant. Flying times were limited to about 15 mins to allow thawing out of the stick fingers, thank heavens for the thermos of coffee! Funnily enough we had another visitation by an extremely low heli (private) as we did recently at LH by 2 Merlins. It appeared to land near Lustleigh then return later.
Our day ended circa 2.30…brilliant! 😀❄🛩
Regards
John
(The Dartmoor temperature chart from Thursday was kindly provided by Tim, and was obtained from Dartcom at https://www.dartcom.co.uk/weather )